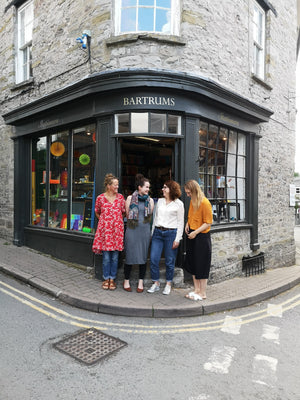 We are Bartrums & Co. Ltd.

Our lovely small shop is in Hay-on-Wye, on the Welsh/English border. We are an independent stationery, fine pen and gift shop on 2 floors located in the heart of this small town. We stock fine writing instruments, stationery goods you need and things you didn't know you needed until you saw it here!

Stationery Addicts beware! It even smells like an old stationers. On the main floor you will find office pens, pencils, rulers, notebooks, sharpeners, files and paperclips, all sorts of gifts for the hard to buy for and we have a dedicated children's section. On the floor below is the hidden gem of the pen emporium where fine writing tools from all over the world are displayed in Edwardian cabinets alongside French leather goods, calligraphy supplies and an impressive selection of inks.

We are open seven days a week and happy to help you find your perfect pen.